Hammerin' Hank has been one of the most popular baseball players in the history of MLB. It's definitely because of his phenomenal sports career. But also breaking the record of a white man as a black man in the home run.
Being a black baseball player is not his identity. Instead, being a force of perfection and classicism is what defines him. When Henry Louis "Hank" Aaron used to walk on the ground, the opposing team always knew how hard the game is going to be. And that's why his rivals used to call him "Bad Aaron".
With such an exceptional career as a baseball player, Hank Aaron left a legacy to follow. His fans cried their eyes out at the time of his death. Now, people remember him through his pictures, gaming clips, and sports cards. There are plenty of sports cards that have featured him, paying homage to his colorful innings in Major League Baseball.
The 1956 Topps Hank Aaron collectable card is proof of his exceptional worth, even when the card has a problematic issue. This is the power of Henry Aaron!
Colorful Career in Baseball
Henry Aaron was the first black man in baseball who broke home runs record and became the king. He made 755 career home runs along with several other records and accolades. Many fans of his still believe him to be the real king of home runs. Even though after 33 years, Hank Aaron's record was broken by Barry Bonds. But the fans believe it to be wrong as Bonds allegedly used PEDs (Performance Enhancing Drug) for his games.
Did you know Hank Aaron is an essential part of a 3,000 hit club with phenomenal 3,771 career hits? He has the highest RBIs (Runs Batted In) record of 2,297 which is unchallenged to date. Aaron hit 6,856 career total bases and 1,477 career extra-base hits. With a batting average of .305, Hank Aaron was perceived as a power hitter. He made all these awe-inspiring records in just 23 years of gameplay. A true legend!
During his career, Henry Aaron received 3 Gold Glove Awards. He became eligible for the Baseball Hall of Fame the first year of his game with the highest votes. Aaron received the 1957 National League MVP Award as well. Presidential Citizens Medal, Presidential Medal of Freedom, Lombardi Award of Excellence, Order of the Rising Sun awards were given to him. His jersey number 44 is retired and not allowed for any other player. MLB created the "Hank Aaron Award" celebrating the supreme record-breaking of Aaron against Ruth
The World Hank Aaron Changed!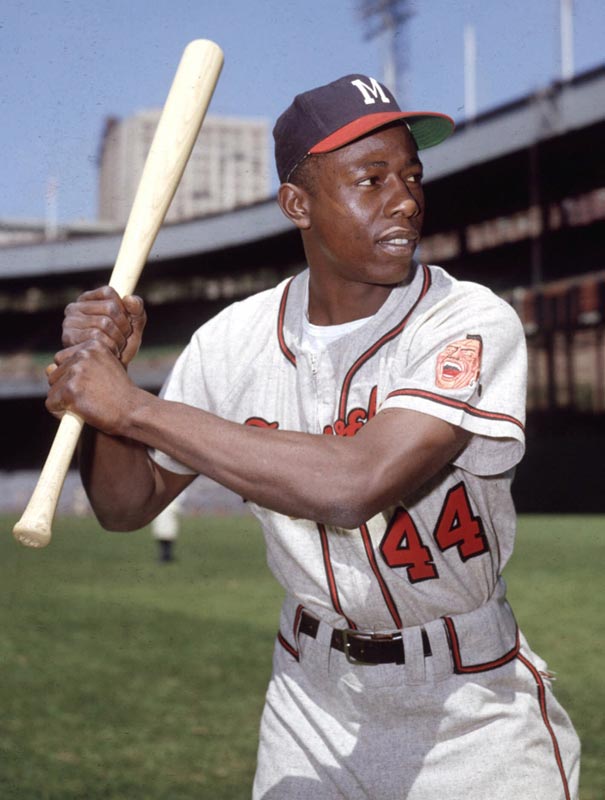 It was indeed Babe Ruth who changed the world of baseball. He played a fascinating inning when the grounds used to be empty. There was zero percent audience attendance and no one watched the sports. The reason was the 1919 Black Sox scandal. But Babe Ruth was the one who decided to challenge the norms and bring back the spectators. After his colorful record of 60 home runs in a single season in 1961 changed the narrative.
Later, Babe Ruth retired with 714 career home runs. The unchallenged home run record was finally broken after more than 3 decades by Hank Aaron. But the journey was filled with thorns and challenges. Being a black guy, it was nearly impossible to survive against a white man. He faced severe racism, backlashes, and death threats. However, Henry Aaron came into baseball to change the world and challenge the norms.
Therefore, he continued playing and broke the undefeated record. Aaron retired with a 755 career home runs record. What Hank Aaron changed in baseball was the respect for a black man in the white supremacy world. He defied the norms and tried making sports safer for a black man. Even though Hank Aaron is no more in this world, but his struggles paved an exceptional way for the black people in baseball. He did change the game making it safe heaven.
1956 Topps Hank Aaron Card – A Unique Sports Card
The cards of many baseball players are valuable for all of their fans. But sometimes, there are some cards that are shocking, unique, and different, all at the same time. That is the story with the 1956 Topps Hank Aaron card.
Printing Issues
In the 1900s, the printing presses were not equipped with machines that are now available. So, either its newspaper printing or brochures, errors, and stains were part of it. That's the same story with sports cards as well. The printing on such cardboards was mediocre with miscuts, player centering issues, blur, bad highlighting, misprinting, and spelling errors. And if the card came in a cigarette packet or with a bubble gum piece, then be ready to welcome stains.
Large Size Cards
1956 Topps Baseball set continued its legacy of oversized cards again. However, the 1956 set was the final one of such peculiar size. Since 1952, such bizarre sized cards were being printed by Topps. The standard size of a sports card is 2-1/2″ by 3-1/2″. However, Topps produced weird sized ones, resulting in earlier deterioration, tearing, and deformation of the sports cards. The 1956 Topps Hank Aaron was printed on a size of 2-5/8″ by 3-3/4″.
A Uniqueness Never Seen Before
1956 Topps Hank Aaron card was large like other sports cards in the packet. But Hank Aaron's card is exceptionally unique and shocking as well. In the packet, the horizontally oriented card had a larger portrait of the player. Along with it was a smaller photo of the same player during game action. All the Topps cards in the pack followed the same algorithm, for instance, if the large portrait is of Micky Mantle, then the action shot was also his.
But in 1956 Topps Hank Aaron card the story was different. The larger portrait is of Henry Aaron, while the action shot is of Willie Mays. It is one of the funniest and most beautiful incidents by Topps company. They accidentally made a sports card, featuring two legendary baseball players at the same time. For this reason, the 1956 Topps Hank Aaron card has a different value for the fans. They are paying for one card and getting two players in it.
Design of 1956 Topps Hank Aaron Card
The backside of the 1956 Topps Hank Aaron sports cards is also entertaining. It features seasonal as well career statistics of the player along with some other information. It's all drawn as a cartoon, where Topps hired comic book artists to help them out.
1956 Topps cards set came with white or grey colored backs. They have either a white backside with information on it or a grey one with statistical cartoons. 1956 Topps Hank Aaron baseball sports card has a grey backside. The Hank Aaron 1956 card by Topps also features his signature, written as "Henry Aaron".
Monetary Worth of 1956 Topps Hank Aaron Baseball Card
Hank Aaron's baseball sports cards are always a sign of affection and admiration for his fans. They consider him the true "King of Home Run" to date. That is why the fans are ready to get their hands on his sports cards, irrespective of the price. Therefore, the value of the sports card is high and the monetary worth is great.
Professional Sports Authenticator (PSA) grades and sets the value of the card depending upon its condition. If the card is in exceptional pristine condition, then the card is ranked as PSA 10 i.e., a gem mint condition. Lower than pristine condition means PSA 9 is a mint condition sports card. Similarly, the lowest condition card with torn sides, poor health, and image centering issues rank below PSA 5 where 1 is the poorest.
In December 2020, PSA 9 i.e., mint condition 1956 Topps Hank Aaron card was auctioned for $27,600. However, PSA 8 with the slight mint condition was sold for $4,183 through eBay in May of 2021. The 1956 Topps Hank Aaron baseball card with a ranking of PSA 1.5 was auctioned for $287 through eBay on February 2021. The condition was totally bad with miscuts, torn sides, and missing edges.
This indicates no matter how bad the condition of the 1956 Topps Hank Aaron card is, the fans are never getting bored of it. They are going to purchase it at all costs. That is the form of pure love and respect for Henry "Hank" Aaron.
Wrapping Up
The 1956 Topps Hank Aaron card is loved by the fans just like the 1954 Topps Hank Aaron baseball card. However, the 1954 Hank Aaron card by Topps is a rookie card. And it's the only rookie card of Henry Aaron, that's why its monetary worth is slightly higher. But the fans still love the 1956 Topps Hank Aaron card.
It's their utmost love and affection for the late baseball legend and home run king. They can never undermine his contribution to baseball and commitment to making the sports safer for blacks.